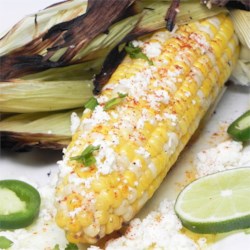 Submitted By: blakleyl
Photo By: Soup Loving Nicole
Prep Time: 10 Minutes
Cook Time: 10 Minutes
Ready In: 20 Minutes
Servings: 4
"As served by street vendors in Mexico. Grilled ears of fresh corn are spread with mayonnaise and sprinkled with grated cotija cheese. You'll want to eat all your corn this way from now on."
Ingredients:
4 ears corn, shucked
1/4 cup melted butter
1/4 cup mayonnaise
1/2 cup grated cotija cheese
4 wedges lime (optional)
Directions:
1.     Preheat an outdoor grill for medium-high heat.
2.     Grill corn until hot and lightly charred all over, 7 to 10 minutes, depending on the temperature of the grill. Roll the ears in melted butter, then spread evenly with mayonnaise. Sprinkle with cotija cheese and serve with a lime wedge.